American Music, Chronicles and Blowing on the page
by Joseph Blake
American Music by Annie Leibovitz (Random House; 264 pages; 2003)
Chronicles by Bob Dylan(pages; 2005)
America's gift to the world is its great mongrel culture, the native tongue and sound, boiled-up in the melting pot. There's a line that runs from Whitman to Kerouac to Dylan. Jazz, blues, country folk, gospel, soul, rock and roll and rap set that pot to boil, and at its best, the succulent gumbo is the sound of spirit.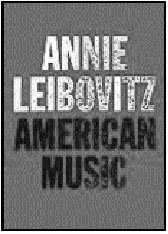 Annie Leibovitz's American Music and Bob Dylan's Chronicle are recent, book-form attempts to capture that spirit, the heartbeat blood of the American sonic landscape. Both books offer singular and insightful peeks behind the music.
Like acid flashes, Leibovitz's intimate portraits of American musicians and Dylan's guileless autobiographical images danced in the guitar din of Bob's recent show at Victoria's new arena.
Dressed in cowboy-black, eyes darting beneath a white, wide-brimmed flat-top, Dylan perched stage left, directing his glorious, five-piece band with weird Monk-like keyboard propulsion. He came centre-stage on several songs to blow scorched-earth harmonica solos, but most of the show Dylan immersed his vocals in the band's collective roar. Spread-eagled and swaying while hunched daintily over the keys, the 65 year old musician growled and crooned and sneered out his classic lyrics over seething, guitar-driven, roadhouse roar and playful, juicy swing. In front of an adoring, cross-generational packed arena, Bob reinvented his songs, singing dramatically above searing, born-again forms.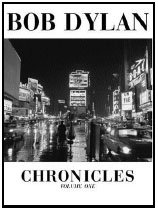 April's show at the Paramount in Seattle introduced this new band with explosive, birth-like rawness. Four months later in Victoria, Dylan and company were still tinkering with their spontaneous, high-wire act on tunes like the flawed New Morning, but for most of the two-hour show their groove was spectacularly daring, wild and together. Dylan didn't encore with his most famous song (take your pick), but building from a withering version of Maggie's Farm to an even harder rocking and raunchy Highway 61, Dylan was masterful. By the time his encores capped the evening with a sweetly bruised reading of Don't Think Twice and an apocalyptic All Along The Watchtower, Dylan had covered the waterfront, capturing the scope of American music from Blind Willie McTell to Hendrix and beyond. When I look at Leibovitz's beautiful images, Dylan's music is the soundtrack. I can still hear the inspired roar.
At 24, Annie Leibovitz began a 13-year career as Rolling Stone's ace photographer. She was a student at San Francisco Art Institute until she parlayed a portfolio of painterly, night-school photos into her 1970 debut with the music magazine just as Jann Wenner and shifting Baby Boom demographics pulled Rolling Stone into the mainstream.
Leibovitz went out on the road with the Rolling Stones in 1975 where she, "learned how music is made." As she explains in one of her book's short essays, "I had an idea at that point about how musicians lived, but not about how music is made."
Earlier in the same essay, Leibovitz analyzes her art and its place in the music. "It seemed to me that a concert was the least interesting place to photograph a musician. I was interested in how things got done. I liked rehearsals, backrooms, hotel rooms -- almost any place but the stage. And even if I was a fan of someone's music, the photograph came first. It was always about taking the picture."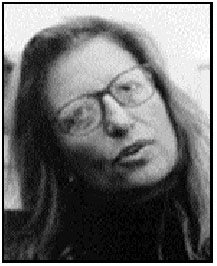 An animated Annie Leibowotz
The seeds of American Music were sewn in the Mississippi Delta on a 21st century trip down legendary Highway 61. After her stint at Rolling Stone and over two decades as contributing photographer at Vanity Fair and Vogue, two best-selling books, and numerous awards, Leibovitz's American Music was born of a "desire to return to my original subject and look at it with a mature eye." The resulting photographs conjure up what music writer Greil Marcus, riffing on poet Kenneth Rexroth's "old free America", has called "the old weird American, the hidden republic of music."
Leibovitz's camera carves a landscape of haunting faces framed by juke joints and jazz halls, the Carter family's front porch and seedy, Hollywood hotel rooms, soulful clapboard churches and boat-sized convertibles on a sticky southern road all the way to Graceland. Her photos are brilliantly lit black and white, carved-in-stone portraits punctuated by punch-drunk, psychedelic colour shots of the rock and roll circus. Music stars and forgotten or unknown musicians sit or strut with equal dignity, intimacy and power before Leibovitz's camera.
Describing her passionate reaction to the beauty and richness of the Fisk Jubilee Singer's gospel music and the Treme Brass Band's playing at a New Orleans jazz funeral, Leibovitz writes, "I felt privileged to be able to listen to these people play."
The photographer's passion for the dynamic, inclusive American music form is made deeply personal by a moving, photographic tapestry of musicians ranging in age from Pete Seeger to Norah Jones. Most grew out of road trips visiting musicians in the Mississippi Delta, Texas, Tennessee, New Orleans, California, Leibovitz's New York City boroughs, and the wilds of New Jersey. Her camera also captured majestic images of musical elders shortly before their deaths in the new century. A handful of earlier work from the 1970s includes penetrating portraits of Dylan, Ray Charles, Louis Armstrong, Tina Turner, Joan Baez, Jerry Garcia, Chuck Berry and Bo Diddley.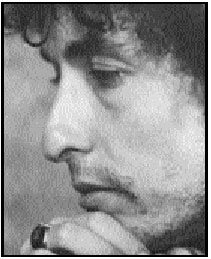 A pensive Robert Zimmerman
Some photos are haunting, others warming, all are moving. They capture Miles Davis' defiant, darting eyes, Iggy Pop's road-scarred animal nakedness, and a surprisingly domestic Tina Turner in hair curlers. Johnny and Rosanne Cash are caught playing guitars on the front porch while hill country blues rocker Jessie Mae Hemphill sits stroke-weakened, a dog on her lap, but with eyes still smoldering above high, Indian-blood and black cheekbones. A spooky, gorgeously lit black and white shot of Hubert Sumlin and Pinetop Perkins at the Maple Leaf in New Orleans looks 100 years old, but was taken in 2003.
All the photos have a timeless quality, just like the music.
Patti Smith writes in a short autobiographical contribution to the book, "Our music is family unrelated by blood, as Whitman might say, it contains multitudes."
Other well-known music figures including Steve Earle, Mos Def, Beck, and Ryan Adams contribute their thoughts too. "Experiencing different styles is a consequence of my own experience and I let them emerge in my music, with their inherent humor, freneticism, boredom and darkness," writes Beck in his insightful essay. "The holes in the filter are bigger now. The desire to homogenize is waning. Varieties are giving way to varieties. The shape of the wave is stranger than anybody could imagine. I always wanted to get a better look before it drowned me."
I highly recommend that you grab a copy of American Music and dive in!
If you haven't read Dylan's Chronicles or listened to his most recent CD, Love and Theft, what are you waiting for? Chances are you might have missed the Bob Dylan Show when it rolled through western Canada mid-July too, but you can still catch up with Dylan's words and music and get ready for Martin Scorsese's PBD documentary, No Direction Home, a television portrait of Bob scheduled for September.
In Chronicles, the notoriously private musical legend has produced a sketchy, uneven, self-portrait packed with surprising slivers of music theory and commentary, flashes of poetry, and the cornpone narrative idiom of common speech. Ambiguity and mystery, Dylan's stock in trade, are the subtext to the veteran song and dance man's literary magic as he playfully lifts the mask on three crucial periods of his almost 50-year career. The poignant, wily memoir is a collection of odd revelations and a gift to Dylan's fans.
The book begins and ends with Dylan's first exposure to New York City's Greenwich Village folk scene. The Minnesota college dropout couch-surfed throughout the Village while playing the basket clubs and educating himself with his hosts' libraries including books by, Byron, Freud, Faulkner and the Russians, to name just some of the authors Dylan names.
A self-described history buff, Dylan reveals "the God awful truth" that the American Civil War "would be the all encompassing template behind everything that I would write."
The making of panoramic masterpieces like "The Times They Are A-Changing" and "Like A Rolling Stone" isn't mentioned in Chronicles. Instead Dylan offers tangential memories and reflections including bizarre appreciations for John Wayne, Barry Goldwater, and Ricky Nelson, as well as Robert Johnson's ghostly blues, Harry Belafonte's influential distain for cultural critics, and more arcane influences like pro wrestler Gorgeous George.
There are no gossipy revelations in the chapter documenting Dylan's early brush with rock stardom and 1970s life as a family man on the run from his legend. In describing the act of inventing and reinventing Bob Dylan, the author admits that critically-clobbered 1970s recordings like Self Portrait and New Morning as well as his exploration of Judaism were attempts to keep the hounds at bay. The generic "my wife" stands in for both of Dylan's now-divorced ex-wives.
A chapter documenting a late-1980s recording session with Canadian-bred studio wizard Daniel Lanois is revelatory not only for the glimpses behind the making of Oh Mercy that led to the pair's Grammy-winning Time Out Of Mind a decade later, but for Dylan's depiction of New Orleans' spooky, gothic charms. In a few poetic images he nails the essence of The Big Easy. You won't want to miss this.
Like his latest, otherworldly sonic portraits on 2001's Love and Theft, Dylan's narratives in Chronicles present a rogues gallery of mythic influences and just-out-of-focus characters roaming a long-gone America that still lives between the cracks of sterile, big box culture. Dylan's self-imposed Never-Ending Tour has kept the musician out on the road for 2/3 of the year, relentlessly travelling and performing rock and roll magic live and in-the-moment for the last two decades. It's not hard to hear the echoes of the relentless roar on the pages of Chronicles.
The musician barely acknowledges his audience during performance, but in his autobiography Dylan seems to bare all about what often seems to be nothing at all. Despite the masks and smokescreens, there are moments of lucid, autobiographical insight like Dylan's most straightforward self-description:
"Whatever I am, I'm a '60s troubadour, a folk-rock relic, a wordsmith from bygone days, a fictitious head of state from a place nobody knows. I'm in the bottomless pit of cultural oblivion."
Written on the run from the back of the Never-Ending Tour's bus, the autobiography is an odd book, simultaneously illuminating and diverting. Read between the lines of Chronicles' fragments, dreams and reflections with particular attention to one of Dylan's most revealing lines from the autobiography:
"If you have to lie," Dylan writes, "you should do it quickly and as well as you can."
For 25 years, Joseph Blake has been Canada's grittiest music writer. A widely read travel correspondent, he lives in Victoria, B.C.